Using Zudello's supplier reconciliation tool simplifies the process of matching your transaction records against the uploaded supplier statements.
Once the statement is uploaded, Zudello will intelligently extract the data from the supplier statement and automatically distribute it into either debit or credit fields.
This allows Zudello to utilise the transaction data from your selected system to inform you which records are matched or outstanding, as well as if there are any discrepancies between your record and the supplier statement.
Zudello will match the uploaded statement against the supplier, analysing the records within the selected date range and the document numbers provided on the statement.
This document will cover three main topics:
---
Uploading Statements
Uploading supplier statements to Zudello is very similar to uploading your sales or purchasing documents.
Begin by selecting 'add a document':
1. Choose 'upload a document.
2. Drag the document into the window or use 'click here to upload' to search your computer's file directory to find the document.
3. The document will then be imported into Zudello.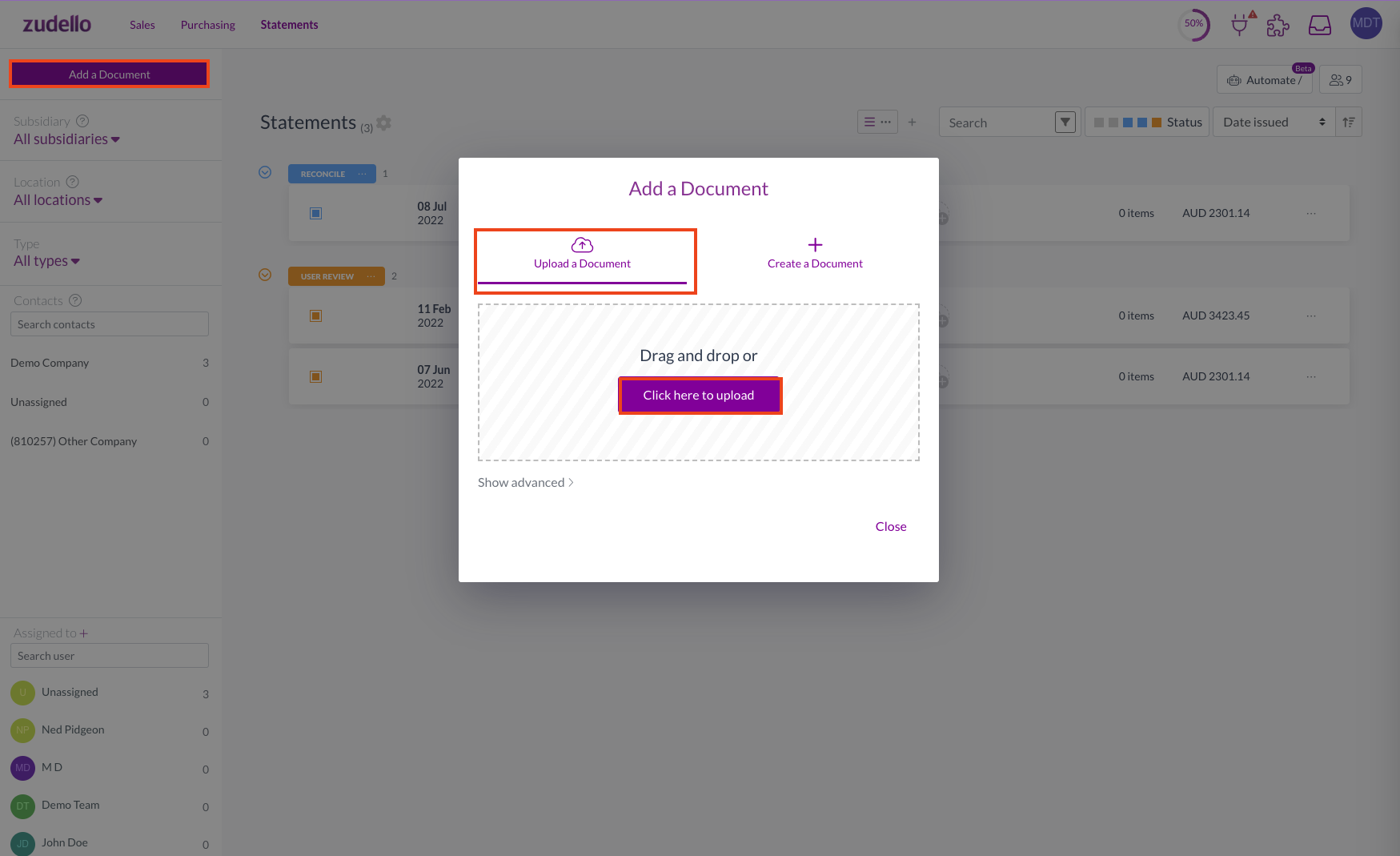 ---
Creating Statements
You also have the option to create a statement from within Zudello.
Begin by selecting 'add a document':
1. Choose 'create a document.
2. A new Statement will be created for you to complete under the User Review status.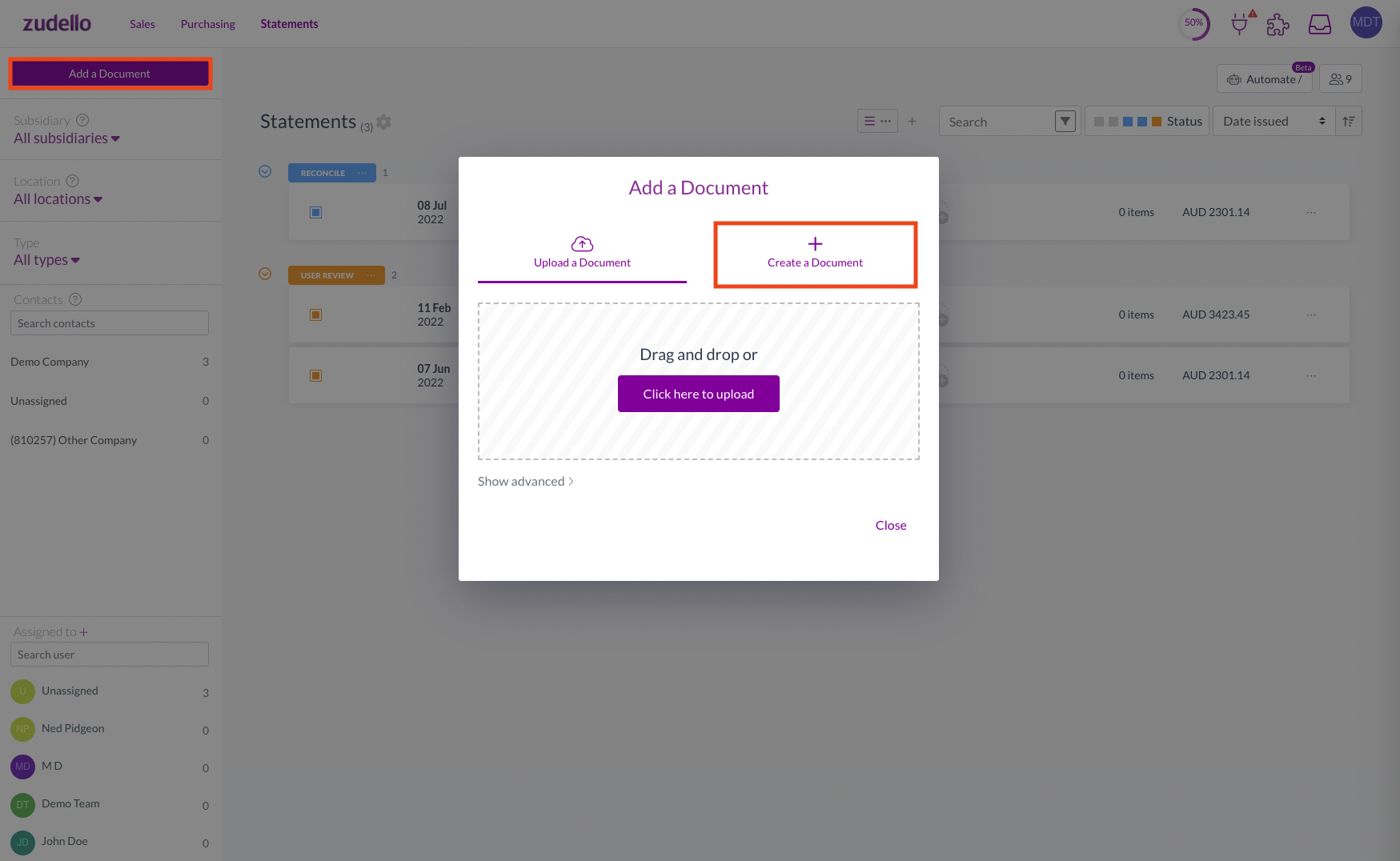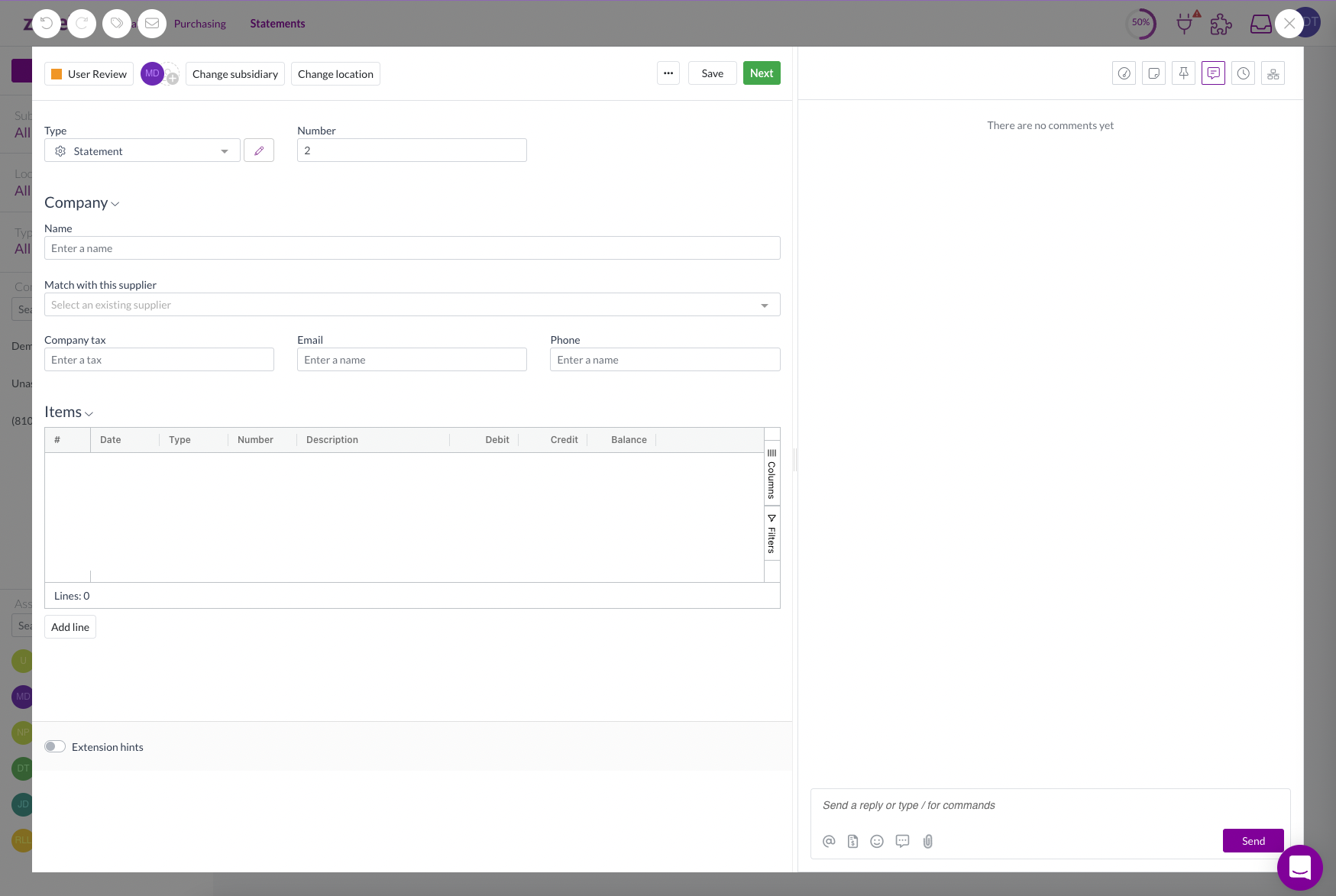 ---
Reconciling Statements
Step 1:
In the statement section of Zudello, select the supplier statement you are wanting to reconcile.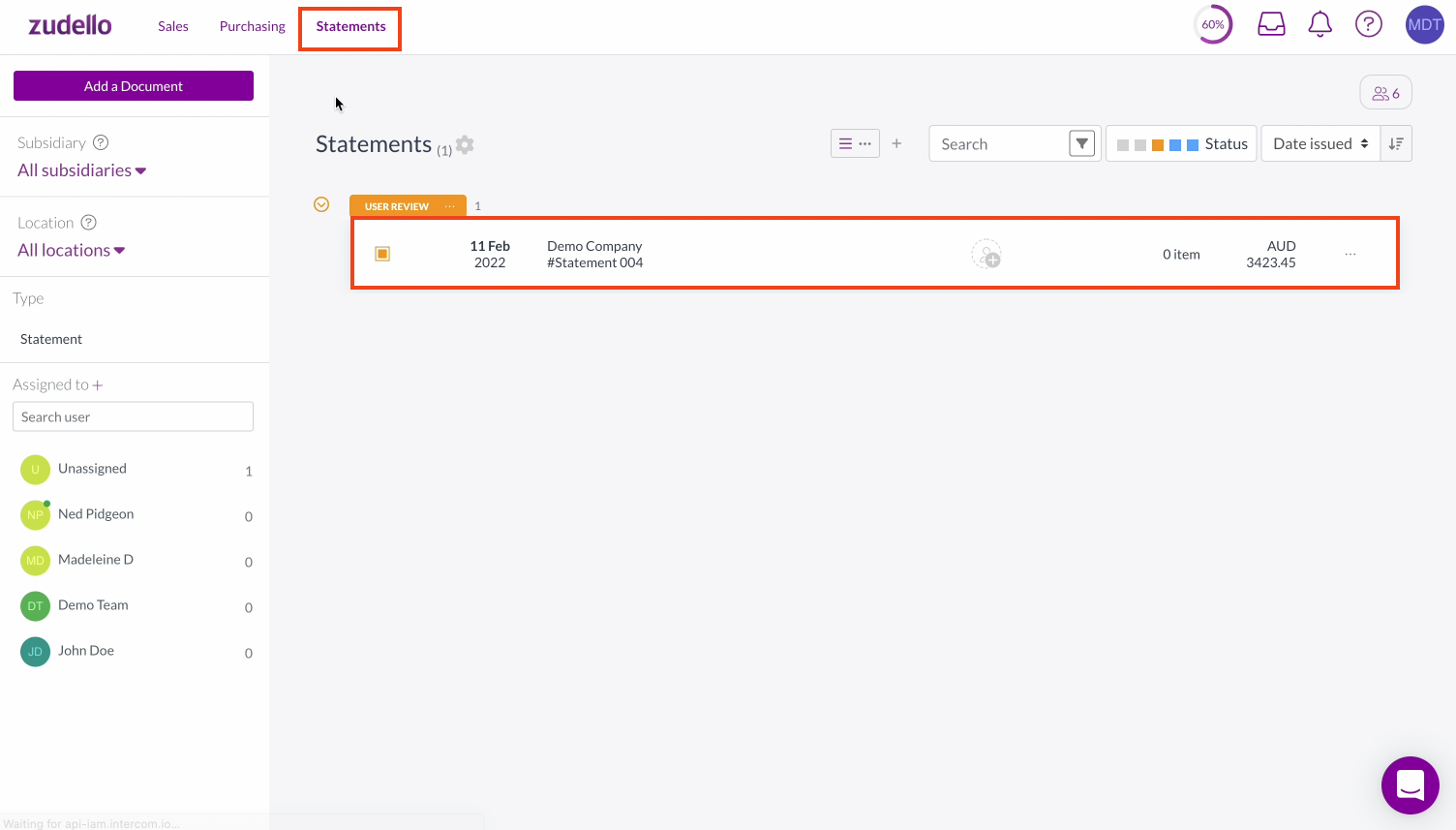 ---
Step 2:
Select 'Next' from the header.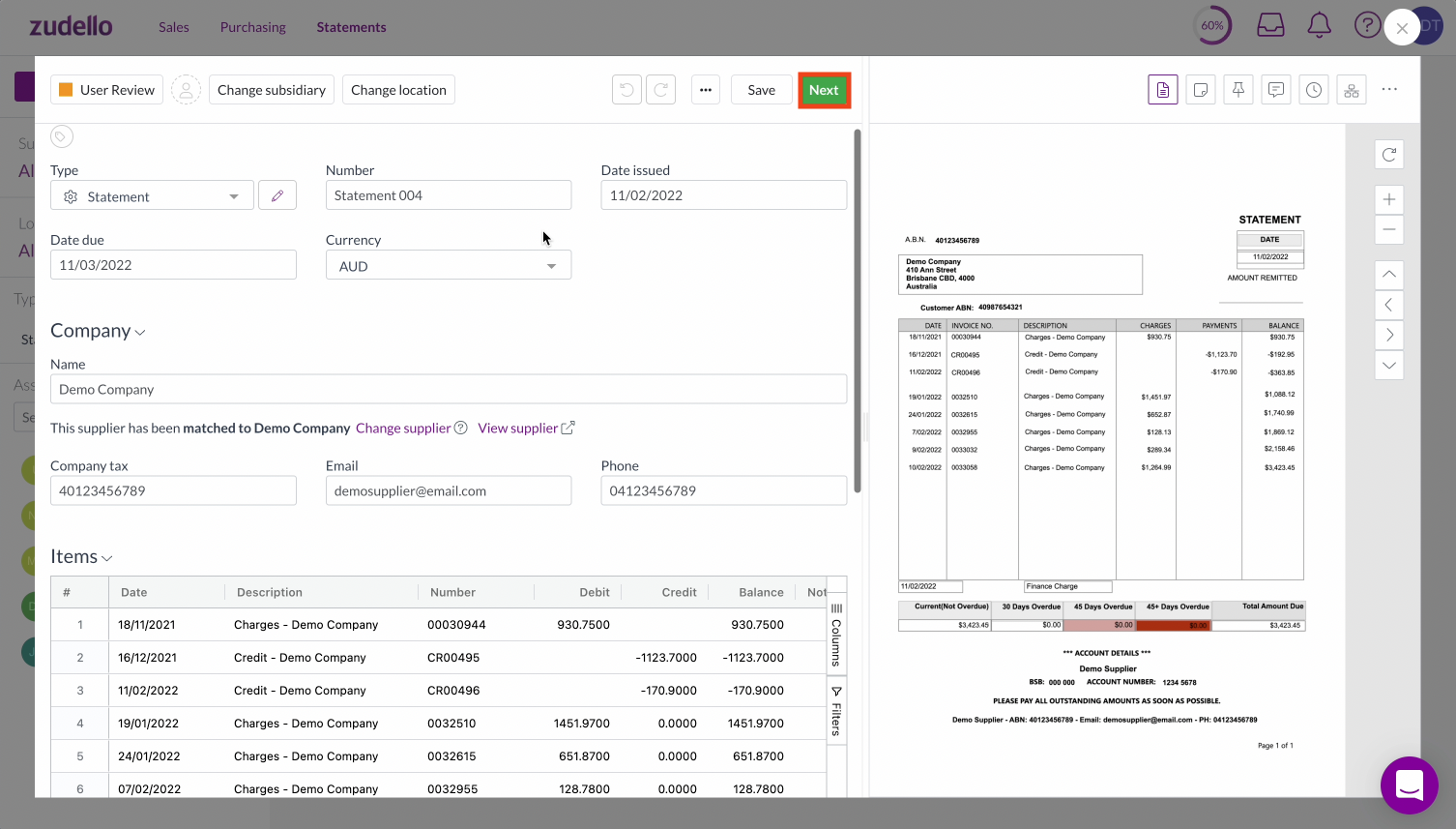 From here, you will see the extracted information in a column on the left, and all of your paid records from your ERP in a column on the right.
Zudello then looks up the transactions from your ERP system within the date range provided on the statement and informs you of any missing records or discrepancies between the transactions and the extracted statement.
Matched documents will be linked together with a colored line:
Green

fully matched transaction number, type, total, and date
the date is considered a match if the difference is within 2 days

Blue

matched transaction number, type, and total
the date doesn't match but falls into the current month

Orange

partially matched transaction number, type, and/or total
the date doesn't match and falls into a different month

Red

transactions do not match
If there are no records for outstanding invoices, they are unable to be linked.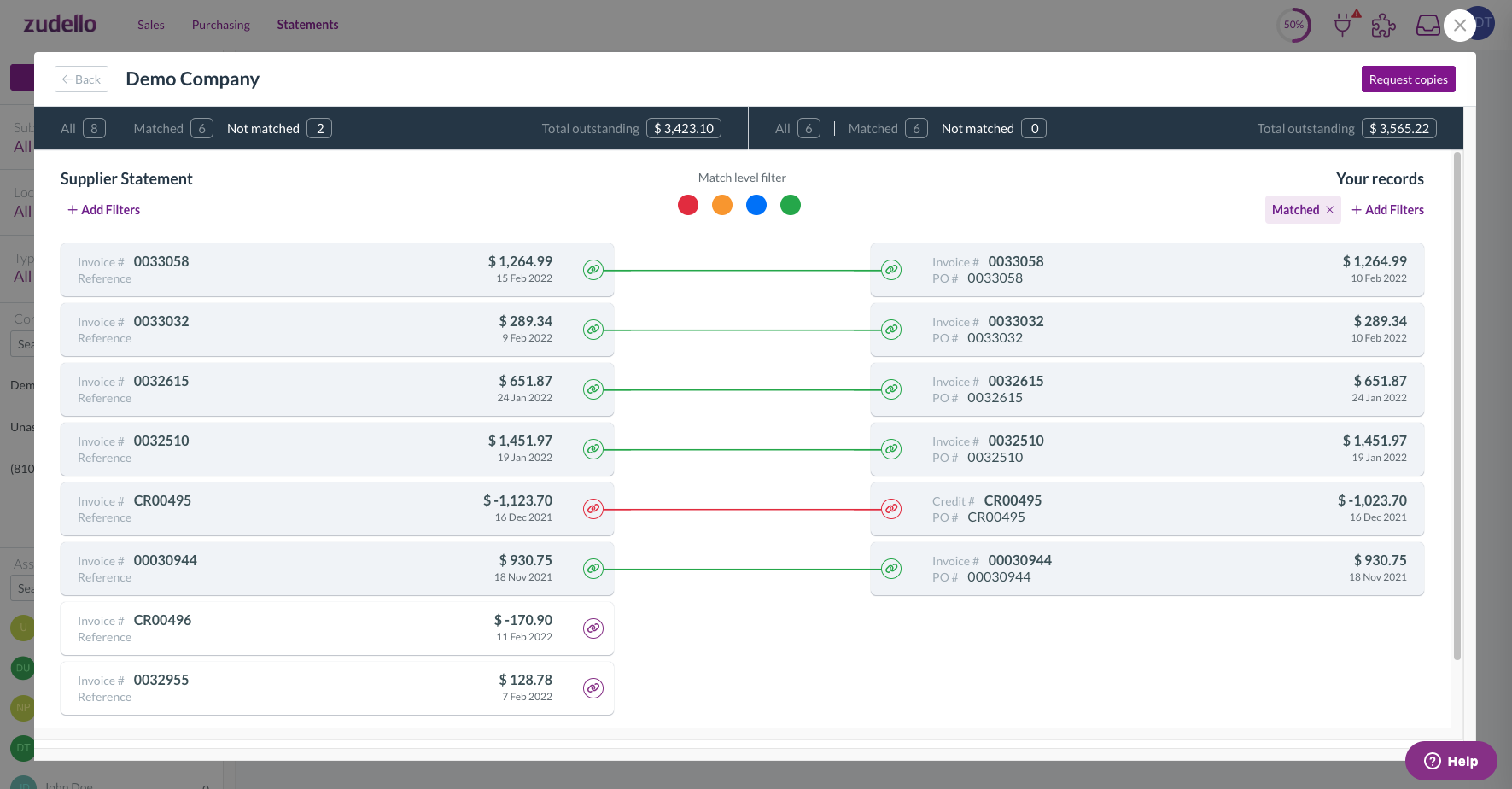 ---
Step 3:
Review the links. You can link or unlink documents by selecting their link buttons.
Unlink: click the link button next to either document:



Link: click the link button next to BOTH documents:

You can also hover over the link button to be given an overview of the discrepancies.

---
Step 4:
If necessary, Zudello can correlate the missing data and generate an email you can send to your supplier requesting copies of the documents in a single click.
Select 'Request copies' from the top right corner.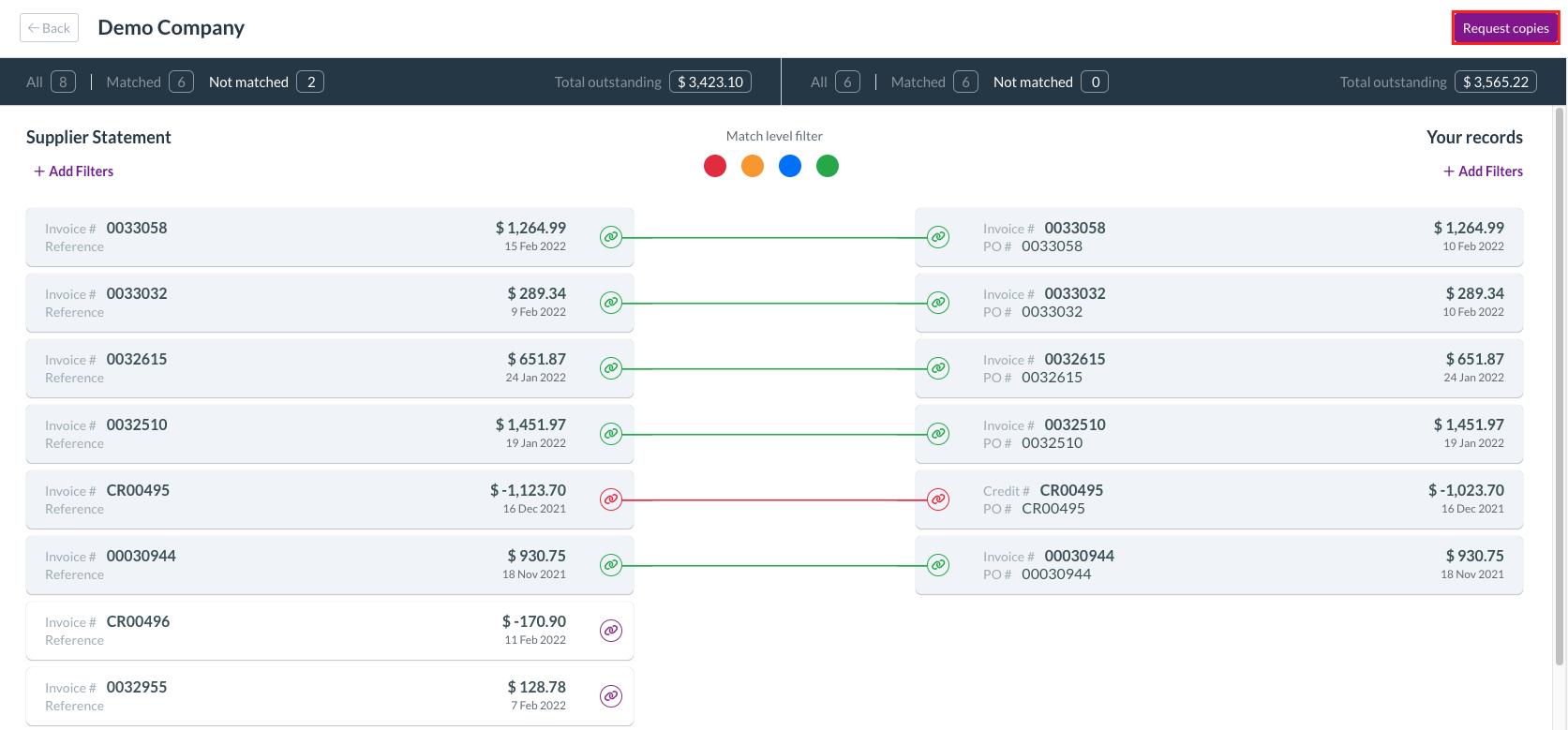 You are able to customise the email Zudello generates. Once you are happy with the email, hit send.